Effortlessly perform corrosion mapping with a variety of automated raster arms solutions.
The NAVIC, in conjunction with the motorized raster arm, is engineered to assist in the identification of variations in material thickness due to corrosion. The NAVIC - Corrosion Mapping Scanner will follow specific scan paths which are programmed using the remote handheld controller. Perform precision c-scans, line scans, HydroFORM and more using the wide variety probe holders available.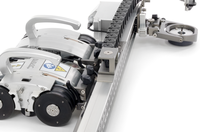 Motorized Driving and Steering
Variable drive speed and steering control.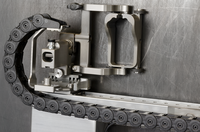 Raster Arms
Available in 4 different lengths, the sophisticated raster arm delivers precision corrosion results. Program custom scan paths, intervals, speed and more for readings which are repeatable and highly configurable.
Rugged
Designed to handle intense tasks and challenging environments (dust-tight, watertight)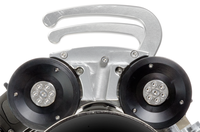 Magnetic Wheels
Magnetic wheels provide the foundation for scan operations on ferrous surfaces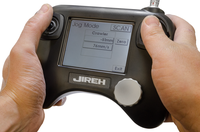 Remote Control
Program raster paths from up to 30 m (100 ft) away using the intuitive handheld remote control. The ergonomic handheld controller includes steering control, corrosion programming and system diagnostics.
Many Accessories
Enhance the NAVIC's capability with optional accessories: battery powered laser guide, onboard camera, backpack, cable management, crawler removal system and motorized couplant pump
Warranty
All components of the NAVIC system are backed by a 3-year warranty.
Base Crawler
The powerful base crawler carries probe holder frames, raster arms and a multitude of accessories for the purposes of weld and corrosion inspection.

Integrated Encoder
A spring-loaded encoder maintains surface contact on all various scan surface diameters. 

Magnetic Wheels
Powerful magnetic wheels ensure the crawler remains fixed to any ferrous surface.

Power Controller
Compatible with both North American and European power sources, the power controller connects the user instrument and handheld controller to the base crawler.
Umbilical
The backbone of communication between the power controller and the base crawler.
Handheld Controller
Containing the NAVIC operating system, the handheld controller joysticks control speed and steering of the base crawler while the intuitive touchscreen allows for more intricate raster path and drive programming.
SCANNER
NAVIC base crawler
PARTS & ACCESSORIES
Power controller (North American or European plug)
Umbilical, 5 m (15 ft), 10 m (30 ft), 15 m (50 ft) or 30 m (100 ft) lengths available
Handheld controller
Controller cable, 6 m (20 ft)
Cable management, threaded mount, (length dependent on umbilical length)
J300 encoder cable, 5 m (15 ft)
Installation/Removal mat
6 mm ID irrigation kit (7/16 in quick connect)
Lifting sling (safety tether)
User manual
Cap (hinge covers) x2
Rugged carrying cases (various types based on chosen accessories)  x2 – x3
TOOLS
3 mm hex driver
3 mm flat driver
Wrench for pivot button adjustment
COMPONENTS
(Components may vary based on selected configuration)
300 mm (12 in) motorized raster arm
Raster arm cable
Rugged carrying case
600 mm (24 in) motorized raster arm
Raster arm cable
Rugged carrying case
900 mm (35 in) motorized raster arm
Raster arm cable
Rugged carrying case
1160 mm (46 in) motorized raster arm
Raster arm cable
Rugged carrying case

GENERAL
Idler Encoder (Right Module): 13.78 counts/mm (349.9 counts/inch)
Motor Encoder (Left Module): 872.5 counts/mm (22162.8 counts/inch)
Crawler's Vertical Payload: 10 kg (22 lb)1
Driving Speed: Variable 0 – 25 cm/sec (0 – 10 in/sec)
Power Requirements: 100-240VAC, 50/60Hz, 3.5 Amps
Umbilical Lengths: 5 m (15 ft), 10 m (30 ft), 15 m (50 ft) to 30 m (100 ft)2
Inspection Surface: Ferrous
Maximum Backpack payload: 1.36 kg (3 lb)3
PIPE RANGE
Pipe Range, Circumferential: 7 cm (2.75 in) to flat pipe
Range, Internal Circumferential: 61 cm (24 in) to flat
Pipe Range, Longitudinal: 30.5 cm (12 in) to flat

RADIAL CLEARANCE
Radial Clearance, Pipes under 20 cm (8 in): 7 cm (2.75 in)4
Radial Clearance, Pipes over 20 cm (8 in): 8.15 cm (3.2 in)4
REGULATIONS
CE: European Union CE Declaration – Compliance with essential requirements and provisions of European Union directives.5
FCC: Compliance with Part 15 of FCC rules.5
Industry Canada: CAN ICES-3 (A)/NMB-3(A) – This class A digital apparatus complies with Canadian ICES-003.5

SIZE & WEIGHT
Base Crawler Height (including handles): 12.5 cm (4.9 in)
Base Crawler Height (handles removed): 8.1 cm (3.2 in)
Base Crawler Width (Dual Pod): 28.2 cm (11.1 in)
Base Crawler Length: 30.8 cm (12.1 in)6
Base Crawler Width (Single Pod): 16.1 cm (6.3 in)
Base Crawler Weight: 7.7 kg (17 lb)7
ENVIRONMENTAL SPECIFICATIONS
Operating Environment: -20°C (-4°F) to 50°C (122°F)
Environmental Sealing: Dust-tight, watertight (not submersible)
Maximum Inspection Surface Temperature: 150°C (302° F)8
RASTER ARM SPECIFICATIONS
Raster Arm Module Encoder: 240.2 counts/mm (6100.9 counts/inch)
Raster Arm Module Speed: 0 - 76.2 cm/sec (0 - 30 in/sec)

RASTER ARM WEIGHT
300 mm Raster Arm (12 in): 2.45 kg (5.4 lb)
600 mm Raster Arm (24 in): 3.36 kg (7.4 lb)
900 mm Raster Arm (35 in): 4.04 kg (8.9 lb)
1160 mm Raster Arm (45 in): 4.54 kg (10 lb)
HEAVY DUTY VERTICAL PROBE HOLDER SPECIFICATIONS
Standard Width: 17.4 mm (0.69 in) – 55 mm (2.17 in)
Standard Length: 63.5 mm (2.5 in)
Wide Width: 17.4 mm (0.69 in) – 93.8 mm (3.69 in)
Wide Length: 63.5 mm (2.5 in)
Corrosion thickness probe holder specifications
Size and Weight
With Mounting Bracket
A - 140.09 mm (5.52 in)
B - 135.18 mm (5.32 in)
C - 38.28 mm (1.51 in)
D - 38.28 mm (1.51 in)
Weight: 0.5 kg (1.1 lb)
Without Mounting Bracket (Raster Arm Application)
E - 32.77 mm (1.29 in)
F - 104.08 mm (4.10 in)
G - 117.27 mm (4.62 in)
H - 46.33 mm (1.82 in)
I - 76.66 mm (3.02 in)
Weight: 0.4 kg (0.9 lb)

Receptacle Sizes
Flat Wear Plate
A - 9.53 mm (0.375 in) dia.
B - 12.7 mm (0.5 in) dia.
C - 19 mm (0.75 in) dia.
D - Technisonic
E - 25.4 mm (1 in)
Curved Wear Plate
A - 9.53 mm (0.375 in) dia.
B - 12.7 mm (0.5 in) dia.
C - 19 mm (0.75 in) dia.
E - 25.4 mm (1 in)

Performance may vary with surface type. Heavy payloads may require reduced speeds.

Custom umbilical lengths are available.
The backpack is not compatible with older generation NAVIC crawlers.

Handles removed.

For a complete description of regulatory certifications, please contact Jireh Industries.

Length of the unit includes umbilical strain relief.

Crawler weight excludes umbilical.
The automated crawler medium temperature add-on kit is required when the inspection surface temperature measures between 50°C (122°F) and 150°C (302°F).
Technical specifications subject to change.