Translate phased array probes around ferrous piping and vessels with the STIX - Magnetic Corrosion Scanner. Designed to perform presision corrosion inspection, the STIX is a manual scanner with built-in positional encoder and index encoder.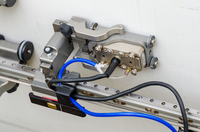 Corrosion Scanning
Perform precision corrosion scans with ease. Manually operated, this magnetic scanner provides encoded probe positioning on ferrous inspection surfaces.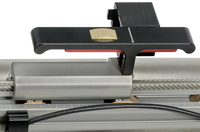 Scan Control
The carrier, to which the heavy duty probe holder connects, includes a locking handle which aligns the probes scan path. Simply lift the handle and slide the carrier to the next index position (which is configurable depending on the size of the probe used) to align to the next scan path.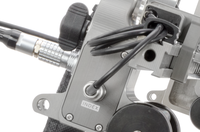 Encoding
High-resolution positional encoding built-in to the corrosion link is compatible with all standard instruments. Track scans along the y-axis at the preset positions of the frame bar.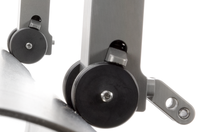 Wheels
The magnetic wheels are coated with urethane to reduce the effects of foreign debris obstructing the scanner motion. When required, additional magnetic wheels may be added to the scanner to further increase the magnetic attraction.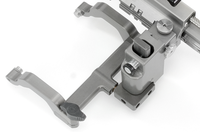 Heavy Duty Vertical Probe Holder
Designed to carry large probes, the heavy-duty vertical probe holder is compatible with the Olympus HydroFORM when used in conjunction with the HydroFORM Cart.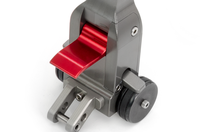 Brakes
Hold the position of the scanner in place when required.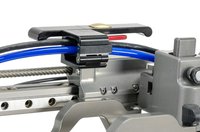 Cable Management
Cable clips allow for routing probe cables and irrigation tubes in an organized, efficient manner on the scanner. the is in addition to the cable management which protects tubes and cables to the instruments.
Three Year Warranty
Manufactured to last. All Jireh equipment comes with a 3-year warranty.
SCANNER
STIX frame, 75 cm (29.5 in) frame bar with ruler
PARTS & ACCESSORIES
Heavy duty vertical probe holder
Index encoder
Encoder cable, 7.5 m (24.6 ft)
Large yoke for heavy duty vertical probe holder
4 mm ID irrigation kit (7/16 in quick connect)
Cable management, dovetail mount, 7 m (22.9 ft)
Corrosion scanner spare parts kit
Sleeving 100 cm (39.4 in)
Cable clips x2
User manual
Setup chart
Rugged carrying case
TOOLS
3 mm hex driver
2 mm hex driver
2 mm hex wrench
Wrench for pivot button adjustment

Heavy Duty Vertical Probe Holder
Incredibly adjustable to accommodate infinite scan surfaces, probe and wedge sizes as well as scan directions of travel.
Carrier
With locking options and cable management, the carrier slides effortlessly along the stroke of the scanner carrying the heavy duty vertical probe holder.
Over-the-top Link
One link contains the positional encoder while the opposite link is unencoded. Together the operate as the backbone of the scanner. Tall enough that the carrier and probe holder can pass through underneath.
Y-Axis Encoder
The y-axis encoder tracks the probe position along the stroke.
Encoder Cable
Compatible with most industry standard instruments, the encoder cable carries the X and Y positional information to the user's equipment.
Magnetic Wheels
Magnetic wheels affix the scanner to ferrous surfaces. Additional wheels may be added to the scanner to increase magnetic attraction.
Scanner Frame
Preset scan positions are built-in to the frame bar which carries the carrier and probe holder along the lenght of the stroke. 
Cable Management
Cable management organizes cables and tubes as well as offers protection. Cable clips and cable management on the carrier further increase the organizational capabilities of the scanner.
GENERAL
Pipe Range, Circumferential: 10.2 cm - flat (4 in flat)1
Encoder Resolution: 16.32 counts/mm (414.5 counts/inch)
Index Resolution: 40.31 counts/mm (1023.9 counts/inch)
Probe Holding Capacity: 1 heavy duty vertical probe holder
Encoder Cable Length: 7.5 m (24.6 ft)2
Inspection Surface: Ferrous
RADIAL CLEARANCE
Standard Radial Clearance: 14.4 cm (5.6 in)
Reduced Radial Clearance: 13.1 cm (5.14 in)
SIZE & WEIGHT
Scanner Height: 15 cm (5.9 in)
Scanner Width: 76.7 cm (30.2 in)
Scanner Length: 25.4 cm (10 in)
Scanner Weight: 3.9 kg (8.6 lb)
ENVIRONMENTAL SPECIFICATIONS
Operating Environment: -20°C (-4°F) to 50°C (122°F)
Environmental Sealing: Dust-tight, watertight (not submersible)
HEAVY DUTY VERTICAL PROBE HOLDER SPECIFICATIONS
Standard Yoke
Minimum Wedge Width: 17.4 mm (0.69 in)
Maximum Wedge Width: 55 mm (2.17 in)
Standard Length: 63.5 mm (2.5 in)
Wide Yoke
Minimum Wedge Width: 17.4 mm (0.69 in)
Maximum Wedge Width: 93.8 mm (3.69 in)
Wide Length: 63.5 mm (2.5 in)
PROBE HOLDER PIVOT BUTTONS
Pivot Hole Size: 8.0 mm (0.315 in)
Wedge Type: Olympus PA
Hex Size: 9.53 mm (3/8 in)
10.2 cm (4 in) diameter scanning is only made possible when using the reduced width of the corrosion link
Custom umbilical lengths are available.
Both yoke styles are included in this kit.
Technical specifications subject to change.