Scan both ferrous and non-ferrous materials with a flexible four probe chain scanner.
The ROTIX - 4 Probe Weld Frame Scanner provides the encoded probe position of four probes circumferentially around tubes and pipes. Manually operated, this double wheel chain scanner straddles the weld, allowing the scanner frame to be centered on the weld, thus reducing wandering and scanner width. Adapt this chain scanner for outer diameter scan surfaces of 10.2 cm - 96.5 cm (4 in to 38 in) using multiple combinations of short and long links.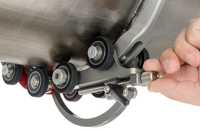 Adjustable Chain
Using two link lengths and an adjustable buckle, pipes and tubes ranging from 10.2 cm – 96.5 cm (4 in – 38 in) diameter may be scanned with ease. The quick release links are designed for simple and efficient chain setup.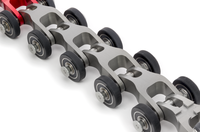 Double Wheel Chain
The double wheel chain straddles the weld to allow the scanner to be centered on the weld. This alleviates scanner wandering and reduces the width of the scanner.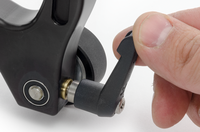 Brakes
Prevent scanner movement when required.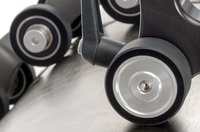 Wheels
Urethane wheels reduce the effects of debris effecting scanner travel in addition to eliminating slippage during vertical applications.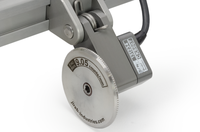 Spring Loaded Encoder
The spring loaded encoder maintains encoder contact with the scan surface at all times ensuring accuracy. The encoder's output is fully compatible with most standard instruments.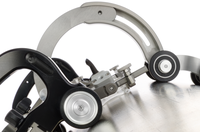 Overhead Adjustable Link
Raise the overhead adjustable link to provide space for large probes to operate. Lower the overhead adjustable link when low-profile scanning is required.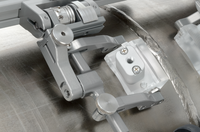 Slip Joint Probe Holders
Easily adjust probe centre spacing and probe alignment with these probe holders designed to accommodate most major phased array wedge types.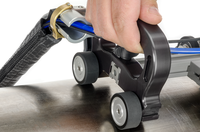 Handles
Convenient handles offer control of the scanner as well as mounting points for accessories such as cable management.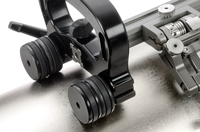 Modular Design
One tool for many scan applications. Convert the ROTIX to a magnetic STIX scanner with a conversion kit.
Warranty
Jireh backs this product with a 3-year warranty

Overhead Adjustable Link
The overhead adjustable link adjusts to accommodate oversized probes. When low profile scanning is required, the link may be contracted.
Frame Bar
The kit includes a 40 cm (15.7 in) frame bar, however, various lengths of frame bars are available for various scan applications.
Slip Joint Probe Holders
Four slip joint probe holders carry two phased array and two TOFD wedges.
Handles
Handles allow a grip point for the scanner as well as a mounting point for various accessories.
Short Link
Multiple short links complete the chain configuration around pipes and tubes.
Catch Link
The catch link completes the chain connection around the scan surface. Use the dovetail mount to carry accessories when required.
Short Link with Dovetail
Utilize the dovetail mount to add accessories to the scanner such as cable management.
Long Link
Equivalent to (approx.) 3 short links, the long link is useful during large diameter scan setups.
Buckle
The buckle connects to the catch link to form the chain system which mounts the scanner to the inspection surface.
GENERAL
ROTIX frame with 40 cm (15.7 in) frame bar
PARTS & ACCESSORIES
Double wheel chain links (Long, short, buckle, etc)
Overhead adjustable link x2
Spring loaded encoder, 5 m (16.4 ft)
Slip joint phased array probe holders x2
Slip joint TOFD probe holders x2
Long probe holder arm set x2
4 mm ID irrigation kit (7/16 in quick connect)
Probe holder spare parts kit
Cable clips x2
User manual
Setup chart
Rugged carrying case

TOOLS
3 mm hex driver
Wrench for pivot button adjustment 
GENERAL
Pipe Range, Circumferential: 10.2 cm - 96.5 cm (4 in 38 in)
Encoder Resolution: 9.05 counts/mm (230.0 counts/inch)1
Probe Holding Capacity: 2 TOFD wedges, 2 phased array wedges
Encoder Cable Length: 5 m (16.4 ft)2
Inspection Surface: Ferrous and non-ferrous materials
RADIAL CLEARANCE
Scanner Radial Clearance: 10.5 cm (4.15 in)
SIZE & WEIGHT
Scanner Height: 10.53 cm (4.15 in)
Scanner Width: 17.50 cm (6.90 in)
Scanner Length: 38.49 cm (15.15 in)
Scanner Weight: 1.27 kg (2.8 lb)
Shipping weight: 16.5 kg (36.4 lb)
ENVIRONMENTAL SPECIFICATIONS
Operating Environment: -20°C (-4°F) to 50°C (122°F)
Environmental Sealing: Dust-tight, watertight (not submersible)
PHASED ARRAY PROBE HOLDER SPECIFICATIONS
Standard Width: 13 – 57.6 mm (0.513 - 2.266 in)
Standard Length: 48.5 mm (1.910 in)
Long Width: 13 – 55 mm (0.513 - 2.165 in)
Long Length: 65.3 mm (2.570 in)
TOFD PROBE HOLDER SPECIFICATIONS
Short Width: 13 – 45 mm (0.513 - 1.772 in)
Short Length: 36.8 mm (1.450 in)
1. 5V DC TTL encoder compatible with all major UT instruments
2. Custom umbilical lengths are available.
Standard contents of a 96.5 cm (38 in) kit.
Approximate shipping weight of standard kit contents.
Probe Holder Pivot Buttons

01
Pivot Hole Size: 8.0 mm (0.315 in)
Wedge Type: Olympus PA
Hex Size: 9.53 mm (3/8 in)
02
Pivot Hole Size: 5.0 mm (0.197 in)
Wedge Type: Olympus TOFD, Olympus A27 DMA
Hex Size: 9.53 mm (3/8 in)
03
Pivot Hole Size: 2.7 mm (0.106 in)
Wedge Type: Sonatest DAAH PH
Hex Size: 9.53 mm (3/8 in)
04
Pivot Hole Size: 9.5 mm (0.375 in)
Hex Size: 11.1 mm (7/16 in)
06
Pivot Hole Size: 3.0 mm (0.118 in)
Hex Size: 9.53 mm (3/8 in)
07
Pivot Hole Size: 2.3 mm (0.009 in)
Hex Size: 9.53 mm (3/8 in)
08
Pivot Hole Size: Conical Head
Hex Size: 9.53 mm (3/8 in)
09
Pivot Hole Size: 5 mm (0.197 in)
Wedge Type: Internal Zetec PA/TOFD, Phoenix TOFD
Hex Size: 9.53 mm (3/8 in)
11
Pivot Hole Size: 5.6 mm (0.221 in)
Hex Size: 9.53 mm (3/8 in)