The Preamp amplifies the return signal from an ultrasonic transducer to improve the signal-to-noise ratio for transmission over long cables. Simply put, the preamp helps to alleviate noise issues. Choose either a 15 m or 30 m preamp kit depending on the length of your NAVIC's umbilical.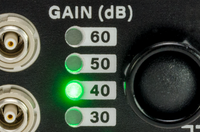 Variable Gain
User selectable gain settings of 30dB, 40dB, 50dB, 60dB are available.
Environmental Sealing
The Preamp is dust-tight, watertight (not submersible) for use in wet environments.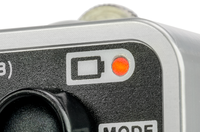 Low Battery LED
When the power supply is low, a low battery light illuminates. 
9V Battery
Powered by the use of a standard 9V battery. Any standard Alkaline or Rechargeable battery may be used.
Performance Specifications

Gain: Selectable (30dB, 40dB, 50dB, 60dB)
Bandwidth: 30 kHz to 30 MHz
Output Impedance: 50 Ω
Output Voltage: 4 Vpk-pk into 50 Ω Load
Battery Life: 8-12 Hours Continuous Use with Standard Alkaline 9V Battery

Preamp with mounting bracket
Dual BNC mail to 10-32 male 15 m (49.2 ft) or 30 m (98.5 ft)
LEMO 00 male to 10-32 male 0.6 m (2 ft)
LEMO 00 male eo 10-32 female 0.6 m (2 ft)
LEMO 00 male to LEMO 00 male 0.6 m (2 ft)
9V battery (x2)
User manual
Rugged carrying case