Encode anything. The ODI is perfect for limited access applications.
The ODI features an encoder attached to a straightforward, universal clamp system, allowing virtually any combination of probe and wedge to be held. The small size allows for single-handed operation in confined spaces, and the clamping system means probe setup is quick and easy.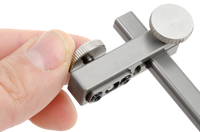 Quick Adjust Clamp
Affix any probe/wedge to the ODI easily (no tools required).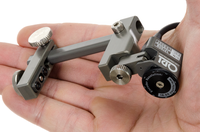 Condensed Scan Size
Helpful during limited access inspection as the small stature allows for unique scanning opportunities.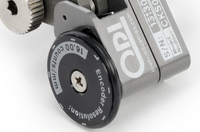 Encoder
The attached mini encoder provides precise encoded positional information while being compatible with all standard instruments.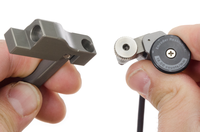 Alternate Encoder Position
Position the encoder at 0° or 90° to accommodate different clamping arrangements. The spring-loaded wheel ensures positive contact with the inspection surface.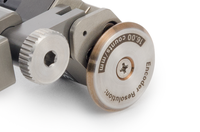 Additional Stainless Steel Wheel
Each ODI kit also includes a heat-treated SST encoder wheel which can prove helpful when using gel couplants.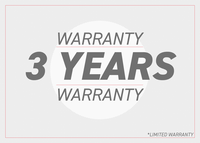 Warranty
A three-year limited warranty is included with all products.
Spring-loaded encoder with 2.5 m (8.2 ft) or 5 m (16.4 ft) encoder cable
Universal clamp system
Heat-treated stainless steel encoder wheel
User manual
Rugged carrying case

Clamp
Adjust the knobs to press-fit the wedge to the ODI system.
Pivot Knob
The pivot knob allows manipulation of the encoder position.
Encoder
The ODI provides a spring-loaded, precisely encoded linear position of a probe.
Encoder Cable
The ODI's encoder cable is compatible with most industry-standard instruments, available in 2.5 m (8.2 ft) or 5 m (16.4 ft) lengths.
Alternate Encoder Position
An alternate encoder position further enhances the flexibility of the ODI.
Clamp Arm
Various clamp arm lengths are available.
GENERAL
Maximum Clamp Width: 55 mm (2.16 in)
Maximum Clamp Width (with 90 mm arm): 75 mm (2.9 in) (Sold Separately)
Encoder Wheel Diameter: 20.37 mm (0.8 in)
Encoder Resolution: 16.0 counts/mm (406.4 counts/inch)
Probe Holding Capacity: 1 probe/wedge
Encoder Cable Length: 2.5 m (8.2 ft) or 5 m (16.4 ft)1
Inspection Surface: Ferrous and non-ferrous
SIZE & WEIGHT
ODI Height: 5.3 cm (2.1 in)
ODI Width: 2.4 cm (0.9 in)2
ODI Length: 11.9 cm (4.7 in)
ODI Weight:  0.08 kg (0.18 lb)3
Shipping weight: 0.6 kg (1.3 lb)4
STAINLESS ENCODER WHEEL
Wheel Width: 2.8 mm (0.11 in)
ENVIRONMENTAL SPECIFICATIONS
Operating Environment: -20°C (-4°F) to 50°C (122°F)
Environmental Sealing: Watertight (submersible), Contact JIREH for details
Custom umbilical lengths are available.
Measurement does not include cabling.
Weight does not include cabling.
Approximate shipping weight of standard kit contents.
Technical specifications are subject to change.