Four probe cantilever scanning with a PPS (probe positioning system) and y-axis encoding (with optional encoder).
The Rotix – 4 Probe Weld Scanner with PPS (probe positioning system) is a manual chain scanner designed to provide encoded probe position of two phased array and two TOFD probes circumferentially around tubes and pipes. The integrated probe positioning system allows the operator to adjust the probe offsets without removing the scanner.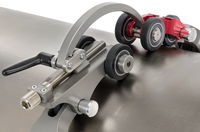 Adjustable Chain
With various link lengths and an adjustable buckle, pipe diameters of 3.8 cm - 96.5 cm (1.5 in 38 in) can be scanned. Quick release links allow for simple and easy scanning of various diameter scan surfaces.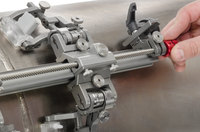 Probe Positioning System
The Probe Positioning System (PPS) provides quick adjustment of the probe center spacing as well as allow an operator to center the four probes over the weld without requiring scanner removal.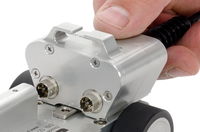 Umbilical
The umbilical is modular and can be removed from the scanner. It can be used for one axis and two axis scans when used with optional accessories.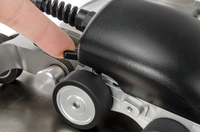 Brake
A brake is provided to lock the scanner in a required position.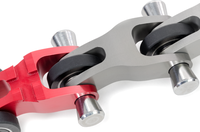 Wheels
All wheels are coated with urethane to reduce the effects of foreign debris obstructing the rolling of the scanner. Urethane also eliminates the sideways sliding of the scanner when used in vertical applications.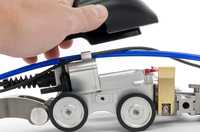 Removable Handle
The Rotix includes a removable cover which allows easy access to protected connections while also providing a means of cable management.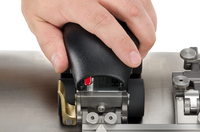 Built-in Encoder
An encoder is integrated into the body of the Rotix cart. The encoder output is fully compatible with all standard instruments.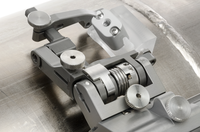 Probe Holders
An integrated latch allows easy probe center spacing adjustment and scanner installation. Due to its modular design most major types of phased array wedges can be accommodated.
Warranty
Covered by a limited 3 year warranty.

Stabilizer Wheel
A magnetized stabilizer wheel maintains frame bar balance during scan operations.

Slip Joint Probe Holders
Maintain constant contact between the inspection surface and the probe with low profile, spring-loaded probe holders. Extreamly adjustable, these probe holders accomadate most industry standard phased array and TOFD probes and wedges.
PPS Encoder
The optional PPS Encoder provides encoded y-axis travel information.
Cart
The ROTIX cart is paired with urethane wheels for smooth, unobstructed motion upon scan surfaces.
Short Link
Various amounts of single wheel short links are included in each kit configuration.
Short Link with Dovetail
Utilize the short link with dovetail to mount accessories such as cable management to the chain system.
Catch Link
Works in conjunction with the buckle to mount the scanner to the pipe/tube.
Buckle
The buckle connects to the catch link to complete the chain system. Adjust the buckle to control the chain's tension around the pipe/tube exterior.
Long Link
Equivalent to (approx.) 3 short links, the long link is used for larger diameter scans.
SCANNER
ROTIX cart with one-axis encoder and 4 probe positioning system (optional encoder available)
PARTS & ACCESSORIES
Single wheel chain links (Long, short, buckle, etc)
5 m (16.4 ft) umbilical cable (2 axis compatible, optional encoder required)
Slip joint phased array probe holders x2
Slip joint TOFD probe holders x2
20 cm (7.9 in) frame bar
Stabilizer wheel
Long, drop probe holder arm set x2
4 mm ID irrigation kit (7/16 in quick connect)
Probe holder spare parts kit
User manual
Setup chart
Rugged carrying case
TOOLS
3 mm hex driver
Wrench for pivot button adjustment
GENERAL
Pipe Range: 3.8 cm - 96.5 cm (1.5 in 38 in) to flat
Encoder Resolution: 19.2 counts/mm (487.7 counts/inch)
Optional Y-Axis Encoder Resolution: 40.31 counts/mm (1023.9 counts/inch)
Probe Holding Capacity: 2 Phased Array Wedges, 2 TOFD Wedges
Umbilical Length: 5 m (16.4 ft)1
Inspection Surface: Ferrous or non-ferrous materials
RADIAL SCANNER CLEARANCE
Radial Clearance: 10.2 cm (4 in)
SIZE & WEIGHT
Cart Height: 8.1 cm (3.2 in)
Cart Width: 8 cm (3.15 in)
Cart Length: 17.2 cm (6.8 in)2
Cart Weight: 0.77 kg (1.7 lb)3
Shipping Weight: 15 kg (33 lb)4
ENVIRONMENTAL SPECIFICATIONS
Operating Environment: -20°C (-4°F) to 50°C (122°F)
Environmental Sealing: Dust tight, watertight (not submersible)
PHASED ARRAY PROBE HOLDER SPECIFICATIONS
Standard Width: 13 – 57.6 mm (0.513 - 2.266 in)
Standard Length: 48.5 mm (1.910 in)
Long Width: 13 – 55 mm (0.513 - 2.165 in)
Long Length: 65.3 mm (2.570 in)
TOFD PROBE HOLDER SPECIFICATIONS
Short Width: 13 – 45 mm (0.513 - 1.772 in)
Short Length: 36.8 mm (1.450 in)
Custom umbilical lengths are available.
Length includes umbilical's strain relief.
Cart weight with umbilical housing but not including cabling.
Approximate shipping weight of standard kit contents.
Probe Holder Pivot Buttons

01
Pivot Hole Size: 8.0 mm (0.315 in)
Wedge Type: Olympus PA
Hex Size: 9.53 mm (3/8 in)
02
Pivot Hole Size: 5.0 mm (0.197 in)
Wedge Type: Olympus TOFD, Olympus A27 DMA
Hex Size: 9.53 mm (3/8 in)
03
Pivot Hole Size: 2.7 mm (0.106 in)
Wedge Type: Sonatest DAAH PH
Hex Size: 9.53 mm (3/8 in)
04
Pivot Hole Size: 9.5 mm (0.375 in)
Hex Size: 11.1 mm (7/16 in)
06
Pivot Hole Size: 3.0 mm (0.118 in)
Hex Size: 9.53 mm (3/8 in)
07
Pivot Hole Size: 2.3 mm (0.009 in)
Hex Size: 9.53 mm (3/8 in)
08
Pivot Hole Size: Conical Head
Hex Size: 9.53 mm (3/8 in)
09
Pivot Hole Size: 5 mm (0.197 in)
Wedge Type: Internal Zetec PA/TOFD, Phoenix TOFD
Hex Size: 9.53 mm (3/8 in)
11
Pivot Hole Size: 5.6 mm (0.221 in)
Hex Size: 9.53 mm (3/8 in)