Enhance corrosion scanning with versatility, functionality, and simplicity.
A host of valuable features make the ROTIX - Chain Corrosion Scanner an excellent choice for manual non-ferrous corrosion inspection. Built-in positional and index encoders ensure precise measurement while the versatile chain system allows for pipe sizes of 10.2 cm - 96.5 cm (4 in  38 in).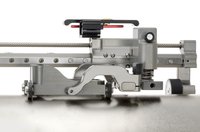 Corrosion Scanning
Perform precision corrosion scans with ease. Manually operated, this chain scanner provides encoded probe positioning on non-ferrous inspection surfaces.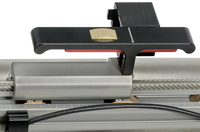 Scan Control
The carrier, to which the heavy duty vertical probe holder connects, includes a locking handle which aligns the probes scan path. Simply lift the handle and slide the carrier to the next index position (which is configurable depending on the size of probe used) to align to the next scan path.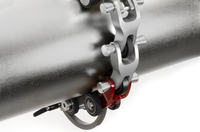 Adjustable Chain
Using various links and an adjustable buckle, any size of pipe diameter from 10.2 - 96.5 cm (4 - 38 in) may be inspected. The quick release links are designed for simple and efficient setup of the scanner.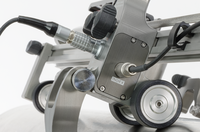 Encoding
Providing encoded positioning for both the X and Y-axis. The built-in encoder output is fully compatible with all standard instruments.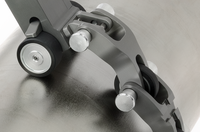 Wheels
Coated with urethane to reduce the effects of foreign debris to the scanner's motion, Urethane also eliminates slippage of the scanner during vertical applications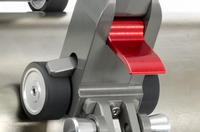 Brake
Control scanner movement with the scanners brake system.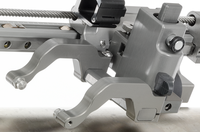 Heavy Duty Vertical Probe Holder
Designed to carry large probes, the heavy-duty vertical probe holder is compatible with the Olympus HydroFORM when used in conjunction with the HydroFORM Cart.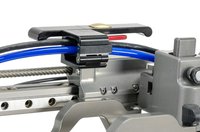 Cable Managment
Cable Clips allow for routing probe cables and irrigation tubes in an organized, efficient manner on the scanner. This, is in addition to the cable management which protects tubes and cables to the instruments.
Three Year Limited Warranty
JIREH warrants product against defects in materials and workmanship for a period of three years from the original date of purchase.

Over-the-top Link
Contains the positional encoder and operates as the backbone of the scanner. Tall enough that the carrier and probe holder can pass through underneath.
Carrier
With locking options and cable management, the carrier slides effortlessly along the stroke of the scanner carrying the heavy duty vertical probe holder.
Heavy Duty Vertical Probe Holder
Incredibly adjustable to accommodate infinite scan surfaces, probe and wedge sizes as well as scan directions of travel.
Dove-tail link
Attach various accessories, such as the cable management to the dove-tail attachment of this short link.
Short Link
A short connecting link in the chain scanner's arsenal.
Long Link
Roughly the size of 3 short links, the long link is useful for large diameter scan surfaces.
Buckle
When connected to the catch link, the chain scanner is mounted firmly to the pipe/tube. Chain tension is adjusted using the buckle.
Catch Link
Used in conjunction with the buckle to secure the scanner to the inspection surface. A dove-tail link is included for attaching optional accessories.
Encoder
The y-axis encoder tracks the probe position along the stroke.
SCANNER
Rotix frame, 75 cm (29.5 in) frame bar with ruler
PARTS & ACCESSORIES
Single wheel chain links (long, short, buckle, etc)
Heavy duty vertical probe holder
Index encoder encoder cable, 7.5 m (24.6 ft)
4 mm ID irrigation kit (7/16 in quick connect)
Cable management, dovetail mount, 7 m (22.9 ft)
Corrosion scanner spare parts kit
Cable clips x2
User manual
Setup chart
Rugged carrying case

TOOLS
3 mm hex driver
2 mm hex driver
Wrench for pivot button adjustment
GENERAL
Pipe Range, Circumferential: 10.2 cm (4 in) to 96.5 cm (38 in)
Stroke Length: 61 cm (24 in)
Encoder Resolution: 16.3 counts/mm (414.5 counts/inch)
Index Resolution: 40.3 counts/mm (1023.9 counts/inch)
Probe Holding Capacity: One heavy duty probe holder
Encoder Cable Length: 7.5 m (24.6 ft)1
Inspection Surface: Ferrous and non-ferrous

RADIAL CLEARANCE
Radial Scanner Clearance: 13.1 cm (5.14 in)
SIZE & WEIGHT
Scanner Height: 15.1 cm (5.9 in)
Scanner Width: 24.3 cm (9.6 in)
Scanner Length: 75 cm (29.5 in)
Scanner Weight: 2.8 kg (6.2 lb)2
ENVIRONMENTAL SPECIFICATIONS
Operating Environment: -20°C (-4°F) to 50°C (122°F)
Environmental Sealing: Dust-tight, watertight (not submersible)
HEAVY DUTY VERTICAL PROBE HOLDER SPECIFICATIONS
Standard Width: 17.4 mm (0.69 in) – 55 mm (2.17 in)
Standard Length: 63.5 mm (2.5 in)
Wide Width:
17.4 mm
(0.69 in)
– 93.8 mm
(3.69 in)

Wide Length:
63.5 mm
(2.5 in)
PROBE HOLDER PIVOT BUTTONS
Pivot Hole Size: 8.0 mm (0.315 in)3
Wedge Type: Olympus PA
Hex Size: 9.53 mm (3/8 in)
Custom umbilical lengths are available.
Approximate shipping weight of standard kit contents.
Additional probe holder pivot buttons available.