Small footprint, single probe, phased array scanning
The Microbe - 1 Probe Scanner is a small hand held scanner with a built-in encoder and utilizing magnetic wheels. It is designed to translate a single Phased Array probe around ferrous piping and vessels. Its small and ergonomic design makes it the perfect tool for encoding probe positions.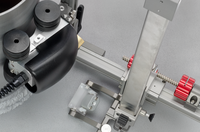 Modular Design
Using standard components, the Microbe can be quickly adapted to many different configuration needs. The MICROBE scanner is fully compatible to ROTIX using the conversion kit.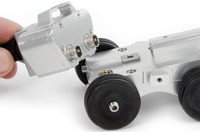 Umbilical
The MICROBE umbilical is modular and can be removed from the scanner. It can be used for one axis and two-axis scans when used with optional accessories.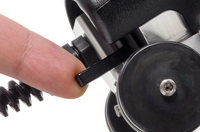 Brake
A brake is provided to lock the location of the scanner in a required position.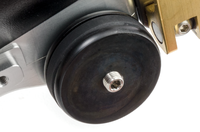 Wheels
The magnetic wheels are coated with urethane to reduce the effects of foreign debris obstructing the rolling of the scanner. To further increase the flexibility of the system, the wheels are also stackable to increase the magnetic attraction when required.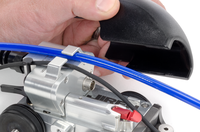 Removable handle
The Microbe has a removable cover allowing easy access to protected connections and also to provide cable management.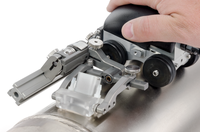 Built-in Encoder
An encoder is integrated into the body of the Microbe. The encoder output is fully compatible with all standard instruments.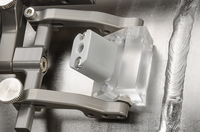 Probe Holders
An integrated latch allows easy probe center spacing adjustment and scanner installation. Due to its modular design, most major types of phased array wedges can be accommodated.
Warranty
JIREH backs all products with a limited 3 year warranty

Cart
The MICROBE Cart contains the built-in positional encoder while the removable handle allows for cable management and access to the umbilical.
Frame Bar
Various lengths of frame bar are available for a multitude of applications.
Slip Joint Probe Holder
The versatile slip joint probe holder carries the phased array probe and wedge with seemingly endless adjustment possibilities.
Magnetic Wheels
The magnetic wheels maintain scanner contact with the inspection surface. Add additional magnetic wheels to double the magnetic attraction.
Brake
A brake prevents the MICROBE from unwanted rolling on a scan surface.
Umbilical
A vital component to the MICROBE, the umbilical housing is a plug-in for optional y-axis accessories. As well, the umbilical exports encoder signals to the user's instrument and acts as a means of cable management.

SCANNER
Microbe cart with one axis encoder
PARTS & ACCESSORIES
Encoder cable, 5 m (16.4 ft) cable length (2 axis compatible, optional encoder required)
Slip joint phased array probe holder, standard, drop arms
20 cm (7.9 in) frame bar
4 mm ID irrigation kit (7/16 in quick connect)
User manual
Rugged carrying case
TOOLS
3 mm hex tool
Wrench for pivot button adjustment
GENERAL
Pipe Range, Circumferential:  3.8 cm (1.5 in) to flat
Pipe Range, Longitudinal:  7.6 cm (3.0 in) to flat
Pipe Range, Internal OD, Inner Diameter:  152.4 cm (60 in) to flat
Encoder Resolution:  19.1 counts/mm (487.7 counts/inch)
Probe Holding Capacity:  1 Phased array probe
Umbilical Length:  5 m (16.4 ft)1
Inspection Surface:  Ferrous
RADIAL CLEARANCE
Radial Clearance:  9.1 cm (3.58 in)
SIZE & WEIGHT
Cart Height:  8.1 cm (3.2 in)
Cart Width (single wheel):  8 cm (3.15 in)
Cart Width (dual wheel):  11 cm (4.3 in)
Cart Length:  17.2 cm (6.8 in)2
Cart Weight:  0.77 kg (1.7 lb)3
Shipping weight:  3.81 kg (8.4 lb)4
ENVIRONMENTAL SPECIFICATIONS
Operating Environment:  -20°C (-4°F) to 50°C (122°F)
Environmental Sealing:  Dust tight, water tight (not submersible)
PHASED ARRAY PROBE HOLDER SPECIFICATIONS
Standard Width:  13 – 57.6 mm (0.513 - 2.266 in)
Standard Length:  48.5 mm (1.910 in)
Long Width:  13 – 55 mm (0.513 - 2.165 in)
Long Length:  65.3 mm  (2.570 in)
1 Custom umbilical lengths are available.
2 Length includes umbilical's strain relief.
3 Cart weight with umbilical housing but not including cabling.
4 Approximate shipping weight of standard kit contents.
Probe Holder Pivot Buttons

01
Pivot Hole Size: 8.0 mm (0.315 in)
Wedge Type: Olympus PA
Hex Size: 9.53 mm (3/8 in)
02
Pivot Hole Size: 5.0 mm (0.197 in)
Wedge Type: Olympus TOFD, Olympus A27 DMA
Hex Size: 9.53 mm (3/8 in)
03
Pivot Hole Size: 2.7 mm (0.106 in)
Wedge Type: Sonatest DAAH PH
Hex Size: 9.53 mm (3/8 in)
04
Pivot Hole Size: 9.5 mm (0.375 in)
Hex Size: 11.1 mm (7/16 in)
06
Pivot Hole Size: 3.0 mm (0.118 in)
Hex Size: 9.53 mm (3/8 in)
07
Pivot Hole Size: 2.3 mm (0.009 in)
Hex Size: 9.53 mm (3/8 in)
08
Pivot Hole Size: Conical Head
Hex Size: 9.53 mm (3/8 in)
09
Pivot Hole Size: 5 mm (0.197 in)
Wedge Type: Internal Zetec PA/TOFD, Phoenix TOFD
Hex Size: 9.53 mm (3/8 in)
11
Pivot Hole Size: 5.6 mm (0.221 in)
Hex Size: 9.53 mm (3/8 in)